Celebrate, celebrate, dance to the music!
We are proud to announce a further instalment of Gunter Hampel's yearly birthday celebrations with The Omniversal Orchestra, taking place on August 31, 2016, within the glamorous locale known as J.K.'s, at the end of Schleusenufer.
Lucky are those who have heard the complete discography of one of the most prolific musicians of the last few decades. In 1969, he formed Birth Records to release "The 8th of July 1969," an album of his compositions performed by a group that included Anthony Braxton, Jeanne Lee, Steve McCall, Willem Breuker, and Arjen Gorter. Since then, Birth has released more than 50 albums of Hampel's work in a variety of configurations, including the Gunter Hampel Jazz Quintet, Heartplants quintet, World Community Orchestra, Free Jazz Trio, and New York Orchestra.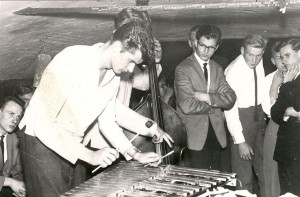 Hampel was an early starter, taking piano lessons from the age of four. By the time he was 16, he could also play recorder, accordion, clarinet, saxophone, and vibes. He was first exposed to jazz when American troops occupying his hometown of Göttingen at the end of World War II listened to jazz on the Armed Forces Network and Willis Conover's Voice of America shows, his earliest influence being Louis Armstrong, but also taking in European classical and folk music with open ears. He started playing all styles of jazz, from Dixieland to bebop, with his own bands, and also composed material for them. After studying architecture while continuing to play music on the side, he started playing jazz professionally in 1958, and six years later formed the Heartplants quintet, which included Alex von Schlippenbach and Manfred Schoof, whose self-titled album was Hampel's first recording, released on Saba Records: it was even rated five stars in Down Beat magazine! Hampel began touring Europe and elsewhere for festivals. He started a long personal and musical partnership with vocalist Jeanne Lee in 1967. In the late 60s, he recorded for the Wergo and ESP labels and played with Steve McCall, Pharoah Saunders and Sonny Sharrock. His apartment in downtown New York saw such prestigious names as Archie Shepp, Ed Blackwell, Frank Wright, Enrico Rava, Jaco Pastorius, David Murray, Sam Rivers…and Jimi Hendrix drop by for rehearsals.
Since then, Gunter Hampel has continued to delight audiences and collectors alike with his never-ending stream of concerts and record releases on his Birth label, playing with musicians as diverse as Bill Frisell, Joachim Kühn, Albert Mangelsdorff, Perry Robinson, Sunny Murray and Andrea Centazzo. Don't miss the opportunity to catch the man in action with his trio, dancers and the blastiferous Omniversal Earkestra on the 31st!
And to wet your appetite: there is a DVD of last year's Omni-Hampel feast available on Birth. Just go forth to Gunter's website.